Yes, it's a brag!!!
This past weekend, Tessa and I went to her second Freestyle event! This one was the closest competition of any kind I've been to - it was actually at the place where we train, although I am not affiliated with the host club.
She did great!! She just loves to perform! She earned her first ever live event title on Saturday when she earned her Beginner title.
Unfortunately, my camera malfunctioned, so I have no video, but I have a couple of still photos. I am going to get this routine videoed for Dogs Can Dance this summer, and I'll post it after that.
Walking out to set up:
Our opening pose. The paw up seems to be Tessa's performance trademark at the moment!!!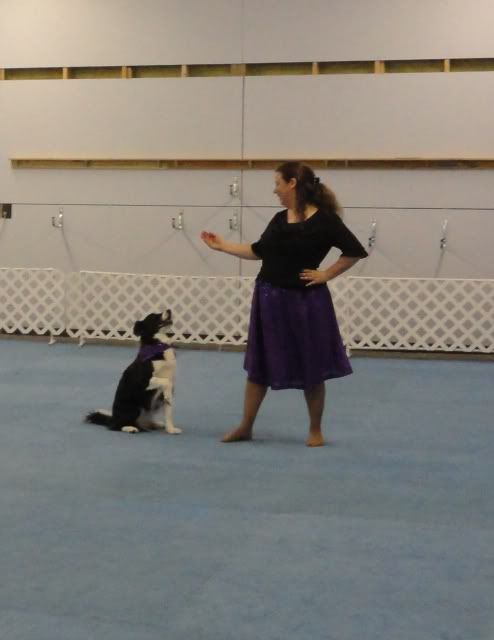 She got a very pretty title ribbon. They don't often have these in Freestyle. Speedy only has one, and he has earned a bunch of Freestyle titles. It's cool that she got one for her first title.
Here she is showing it off a bit!!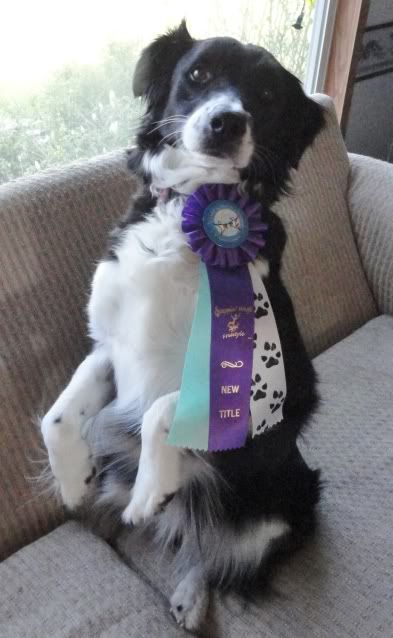 We had a bit of a quandary because we qualified on Saturday. I didn't expect to because the judge we had on Saturday is a very tough judge. I've earned more "missed it by .1" scores under her than I care to count! So, I was thinking of Saturday as a warm up, and I had hoped to go for the Q on Sunday.
We had no Novice level routine prepared!!!
We could have performed the same routine, but we were going to have the same judge since we moved up, so I decided not to do that. Instead I got out the prop and attire from a Scottish routine we had been working on over the winter that I ended up scrapping and I decided to go out with Tessa, improv, and have fun. It wasn't true improv since I did have some things planned, but it certainly was not a fully choreographed routine!!
It went well. We had some blips, but most of them were fun blips. Tessa actually got up and sat on her prop one time when she was supposed to put her two front paws up on it. Then she put her paws up on it when I sent her to run around it!! But those are things that nobody knew since I always act like my dog did exactly what I wanted when those things happen!!
Unfortunately no video of that, either. I forgot to take my camera back on Sunday. I might eventually have still photos that I will be able to share.
Anyway, the surprise of the weekend for me was that we qualified!! Just - but it was a Q!!! I was absolutely stunned, and very happy!!
Now I am planning to actually finish the Scottish routine and use it as a Novice routine this summer.
She's come so, so, so far and I am proud of her.