Maia, my maremma, was diagnosed with Grade III mast cell cancer in early November. No one would give a prognosis, but it took just a little research to know that it was grim. She had lost weight even though I was feeding her double her normal ration--a rate that would have had her butterball-sized had she been in normal health. I worried about her because it's winter and she had no body fat for insulation. And yet she was a guardian, a dog who didn't want to be indoors, a dog who didn't want to be anywhere but with her sheep. So I ordered her a couple of weatherproof large dog blankets, thinking that if she wanted to be with her charges, they would at least keep her warm while she did so.
Earlier this week, Maia stopped eating. Then she started going as far away as she could in the small pasture I had her in. Tuesday morning when I went out to feed her and Tasha she was lying flat out in front of the well house. I thought she was gone, but she was still with us. She was reluctant to get up. By yesterday morning it was clear that she was telling me it was time.
It went very quickly. On Sunday she was still coming when called, albeit a bit slower, with her tail wagging. By the time I went to load her in the van yesterday, she was lying in a puddle of water in the pasture, I imagine because the cold water was soothing on her extremely enlarged lymph nodes. The prednisone had knocked them back initially. They started out egg sized. They shrunk at first, but by yesterday were close to tennis-ball sized. The fact that she offered no resistance to getting in the van told me a lot. The fact that she didn't object to the vet, like she had, strenuously, just six weeke earlier, said that I wasn't hasty in my decision.
Maia came to me after being abandoned at a farm, along with another LGD, probably her daughter, when the farmer sold his stock, property, and great pyrs. Maia and Min couldn't be caught (testimony to why LGDs need at least some socialization) and so were abandoned. The farmer told the neighbors that the new owners had stock and so the dogs were staying with the farm.
The problem is that this wasn't the truth, and no new owners showed up, even three months later when my story with Maia began. Eventually both dogs left the pasture and started patrolling the neighboring farms, mostly horses, always staying on the perimeters, never in the pastures. Some of the people were feeding them. The two LGDs were keeping loose pet dogs and coyotes well away from their farms, and most of them thought that well worth the effort to put out food. At some point, though, one of the husbands decided to
call animal control.
At that point, one of the women who was feeding them sent out an e-mail plea to help these dogs (had they gone to AC, they would have been euthanized--gas--immediately as unadoptable). My friend and I both saw the e-mail seeking help for these dogs. She lived near enough to go out and trap both dogs. She took them back to her place, vetted them, made sure they were safe with cats and chickens and then offered Maia to me for the cost of her spay. I named her Maia after the goddess of spring/rebirth. I saw her coming to me as a rebirth of sorts for her.
We had some rough times at the start. I started out with her tied in the pasture. The sheep were very curious about her, and she soon had a best buddy in one of my Tunis ewes. I fed her twice a day so that she would get used to me and let me get my hands on her. Once I let her off the tie out, she escaped a few times. She never ran off completely, but she scared me because I knew she wasn't entirely mine, and she was crossing the road in front of the house. I put wire on the gates to stop her climbing through the
top space. Over time she came to trust me and would come to me when I called her. She didn't always want to be caught, but if I walked her down, she'd eventually stop and let me get my hands on her.
I never could acclimate her to a vehicle. If I wanted to take her to the vet, I had to load the trailer
with sheep and then load her in with them. Our arrival always created a bit of a sensation at the vet's office.
I have never liked a barking dog--it's just one of those things that gets on my nerves. But I learned to love hearing Maia bark at night and knowing she was doing her job. When I read posts on the working guardian list I realize how lucky I was with her.
There were a few problems, but essentially I was able to put her with my stock and she went to work and neither of us ever looked back. She accepted my working dogs and loved to play with them out in the pasture. She was tolerant of other people's dogs as long as I was in the pasture with them. I think she grew to love me as I grew to love her. I'd give her a scissors trim every spring (she wouldn't tolerate shears) and she used to love to be visited in the pasture and get pets and scratches. She even warmed up to some of my closest friends who used to come out to the farm often.
I was lucky to be able to be part of saving her from a potentially very bad fate, and in turn she gave me peace of mind for 5 years. She was still actively guarding just days before her death--that barking that used to be a bother and became the sweet sound of safety and protection. I will miss her terribly, and I
don't think I'll ever find a dog to truly replace her.
Maia's first night at my place: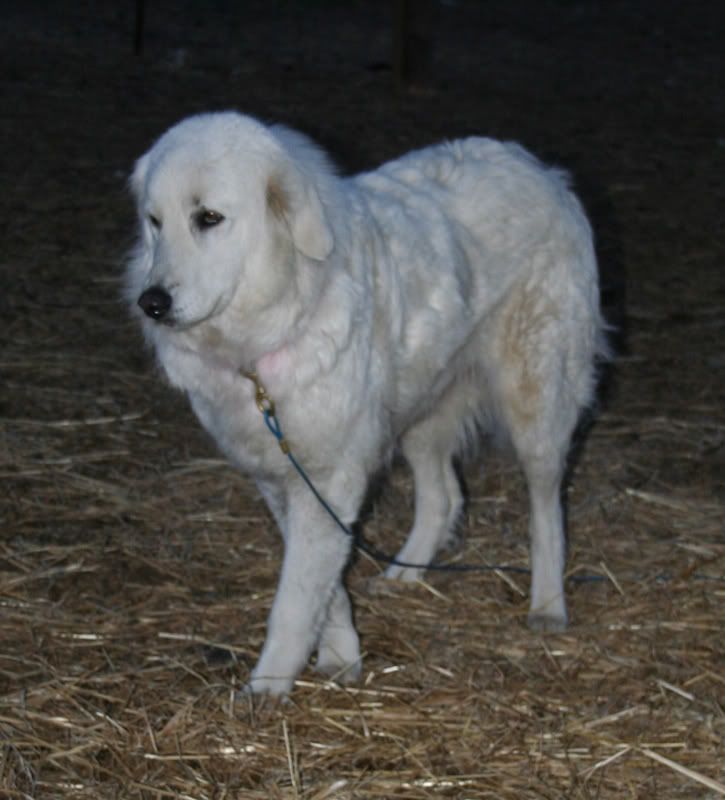 In the pasture with her flock: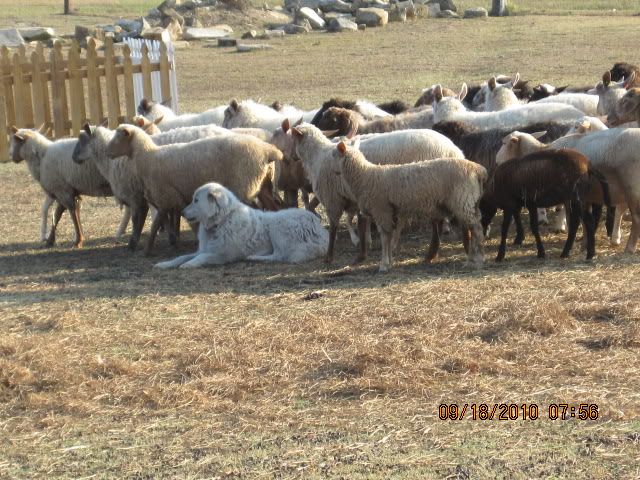 Rest in peace Maia, and Godspeed.
J.