When it was time for Dan to cool in the stock tank, it was a fenceline tank, and he got his front end in but was not patient enough to get his back end in. You can just see his rump and tail hanging out of the tank as Anna watches and relaxes beside him.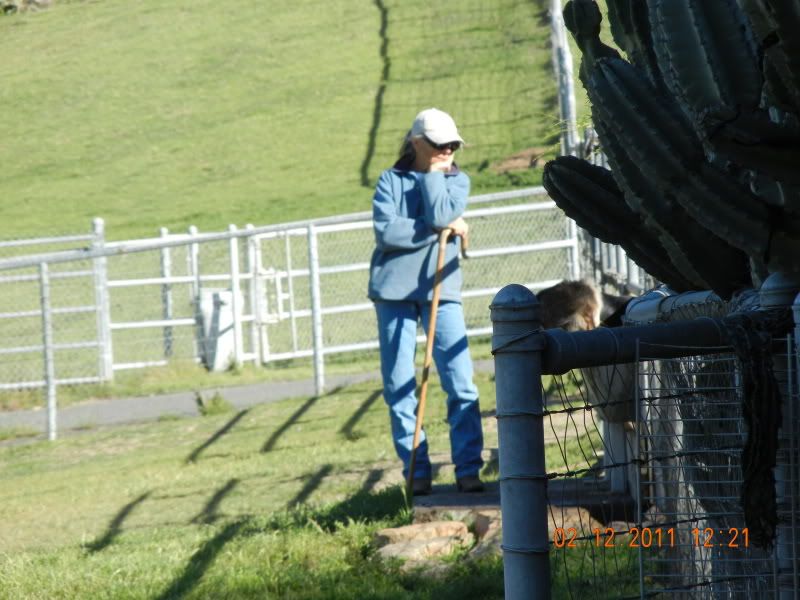 The mid-day work was on six sheep, the three school sheep and three large lambs. Anna was hoping a larger group would be anchored by the school sheep, lightened by the young sheep, and easier to work with. They were, and I was really pleased as I put into work several things we had discussed - Danielle's suggestion to give the sheep more distance before I asked Dan to walk on (and Anna's suggestion to not let that distance get too far or Dan would get up too quickly); Anna's suggestion to pay close attention to Dan and the sheep, making sure to lie him down before the sheep starting moving past me, avoiding the flying around; a real attempt to walk backwards at a better pace; and getting him to respect the crook (and the lie down) by sending that crook flying in front of him when he blew through a down and dove by.
All those ideas payed off very well as I was able to walk the sheep around the pasture in a number of loops, with some nice, long segments of walking backwards without the sheep pressing on me or even passing me - and being able to see when he was coming up too fast and pushing the sheep, and preventing a problem by good timing and calm, quiet commands. Here is just one photo of what we were doing. He was seeming to develop some feel for his sheep as I developed some feel for Dan and the sheep, and my part in the equation. Anna was very happy, and so was I, and I think Dan found it much less stressful.