UK Bans Shock Collars
Started by
GentleLake
,
Mar 13 2018 10:02 AM
Posted 13 March 2018 - 10:02 AM
"People in your life always come and go all the time; the dogs are always there for me. Always." ~Samantha Valle
---
Posted 13 March 2018 - 10:20 AM
Of course I read that collars are shocked by UK bans
"Be sure you know the condition of your flocks, give careful attention to your herds" - Prov. 27-23
---
Posted 15 March 2018 - 12:12 PM
I am glad to hear this, and sorry that the US is so far behind the UK when it comes to many things that are harmful for dogs. (Such as breeding in genetic defects on purpose).
Understand, I am not 100% opposed to the use of a shock collar in every circumstance. If truly warranted, and if used correctly, they can make a big difference that can be ultimately beneficial to the dog, or even save the dog's life.
But from what I have seen they are most often used when a different method would work just as well or better, and they are just as often used incorrectly even if their use would be beneficial if used properly. It takes someone who is trained and experienced in their use to know when it is appropriate and how to do it right. While banning their use means those who have those skills cannot use them either, I think it is preferable to indiscriminate use of shock collars.
Better, perhaps, would be a law that makes it necessary for a person to have specific training credentials in order to be permitted to buy or use them. Of course, laws are not really the solution. Changing people's perspectives is required. Nothing will stop people from doing the wrong thing if they want to, but it may be possible to make it harder.
D'Elle
and family.
Left to right: Kit, Jester, Boo, Digger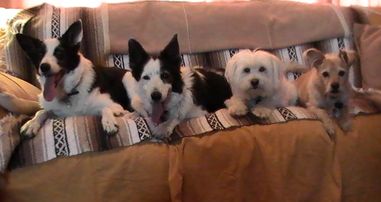 "You gonna throw that?" --Jester:  2001 - June 24 2016. Remembered with much love.
"I'm grouchier than you are" --Kit
"I love everyone!" -- Boo
(Boing! Boing! Boing!)--Digger
And not pictured, Benjamin the cat, who thinks he is a small border collie with superpowers.
---
---
0 user(s) are reading this topic
0 members, 0 guests, 0 anonymous users
Copyright:
All posts and images on this site are protected by copyright, and may not be reproduced or distributed in any way without permission. Banner photo courtesy of Denise Wall, ©2009 CDWall. For further information, contact info@bordercollie.org.