We went down to KillerH's for the day. Rocky pup will be starting "cattle training boot camp", I got to see his littermates again (both marvelous in their own ways), I got to do some hands-on (sort of) work with the cattle, and Patrick got to hang out with the man of the house. And Ted got to work goats.
I wanted to be able to take pictures while someone else worked him, so that's not me working Ted.

Ted learned pretty fast that you have to be all business to move goats.

In retrospect I should have gotten in the paddock with them - I got a lot of shots like this: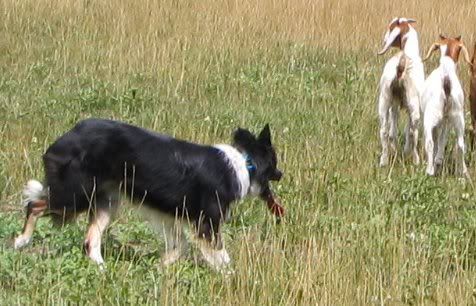 None usable from the front. Maybe next time.
I learned several things that day. One was the difference between a cheap shot and a correct bite. Ted got to learn the difference too on these goats.
"Oh, hey, they stopped . . ."

"Um, still not moving?"

"You sure it's OK to . . .you know . . .?"

"Let's try it!"

"Hey, it worked!"

Here's a head bite for Mark's benefit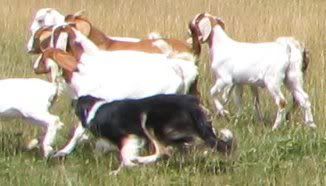 I also learned that when you are moving a bull calf in an alley and someone yells "RUN" - that doesn't mean get a little distance between you and said animal - it means get something BIG AND HEAVY between you and it. I will, however, have my revenge - he's earmarked to be dinner for my dogs and those of a few Triangle Raw Feeder group friends.
Finally, I learned that my Chinese Crested is utterly insane and really does think she's a Border Collie. Here's a video of her helping chase geese at a pond down there. The really funny video that shows her actually getting fairly close got corrupted unfortunately.
Please note that I will not be encouraging this behavior - it would be very easy for a wild goose to drown Zhi - she never got really close or upset the geese in any way.
http://www.youtube.c...h?v=q8UdGiGkfb0